If you're looking to travel out-of-town and can't be bothered with the hassle of having to rent a car, you may want to consider the convenience of the Knutsford Express.
Launched in 2006, Knutsford Express was established with one main goal; to provide an alternate means of traveling from one city to the next in a clean, comfortable bus.
Since it's inception, it has become the preferred mode of travel for locals and visitors moving from Kingston to Montego Bay and vice versa as well as the many other locations that they serve.
The Alternative to the Knutsford Express
I've had the pleasure (or displeasure – depends on how you look at it) of riding on the "traditional" local transport. I encourage you to travel this way at least once in your life but let me warn you; it may not be the best or most comfortable riding experience.
Crammed buses, no air-conditioning and a bus schedule that's out of whack are hallmark signs of the local minibusses that ply the same routes as the Knutsford.
To save yourself from the torture, spend a little bit more and book yourself a ticket on the Knutsford.
Knutsford Express Pricing
As you might expect, traveling more comfortably will mean spending a little bit more out of pocket.
Ticket prices depend on your pickup location and intended destination. There are discounts provided for students and senior citizens, which is a plus.
A one-way trip from Kingston to Montego Bay for an adult will cost you about J$2950 or U$25. If you're a local, I'd say it's best to pay in Jamaican dollars to avoid conversion rates and likely spending more than you have to.
The Points System
One of the things I love about this company is their points system. For every ticket you book online with your account you're awarded a few points. Once you've accumulated enough, you get the opportunity to claim a free ticket. I must admit I've been in a tight crunch before and that free ticket came in handy.
Locations Served
Presently Knutsford Express has 11 offices and 2 satellite stations. The company is making moves and continues to dominate the local market with its efficient modes of transportation.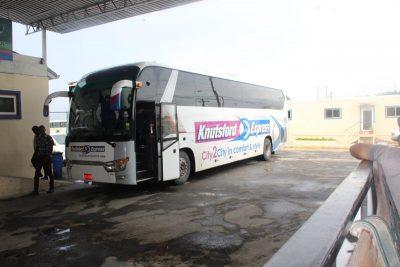 These are:
Kingston
Port Antonio
Annoto Bay
Port Maria
Ocho Rios
Falmouth
Montego Bay
Negril
Savana-La-Mar
Luana
Gutters
Mandeville
Here's a map of the Kingston Location:

As of writing this, Knutsford recently opened a depot in Spanish Town, and so customers conducting business in Montego Bay can easily hop on a bus at that location rather than having to come to Kingston.
The Courier Service
Of course Knutsford Express isn't just in the business of transporting people but packages as well. That's right; you can send a package from one depot to the next and have your recipient pick it up at the destination depot.
Prices for the courier service start at just $650 for the first 10 pounds and $45 for every additional pound after that. Once your recipient presents an ID at pick up, they should be able to receive the package without hassle.
Car Rental Service
So they transfer people, and they even do packages, but are they in the car rental service? You can bet they are. You can rent a car on a per hour basis if you'd like.
For an 8-hour rental day, you're looking at a price of just around $5,000. There may be cheaper options (you can check my car rental guide), but it's still good to know that such a service is available to customers.
Summing It All Up
I've been utilizing the services of Knutsford Express for over 5+ years. I love the professionalism, the comfortable bus rides, and their commitment to customer satisfaction.
I have no hesitation in recommending them to others because of my own experience. If you're looking for a convenient and comfortable way to travel around Jamaica then look into their services, I promise you, you won't be disappointed.
If you have used Knutsford Express before or you're thinking about doing so, drop me a comment below. I'd love to hear from you.