Jamaica is well known for its mouth-watering, tasty dishes. Whether you're a local or visitor to the island, you can bet there's some food here that's bound to "tickle your taste buds."
The snacks in Jamaica are in my opinion some of the best anywhere in the world. As a child growing up I lived for the days I came home from school and got the opportunity to open a fresh bag of banana chips or some similar type of cheesy snack (of which there are many).
Here are some of my top Jamaican Snack recommendations:
1. Banana Chips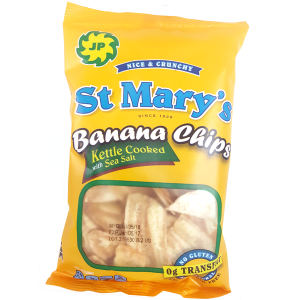 Oh, yes! I can taste it right now. Crunchy and flavorful, the Jamaican Banana chips is a favorite choice for Jamaican kids and their parents who want to enjoy a quick crunchy bite. It is made of fresh (often green bananas) and sprinkled with just the right amount of seasoning.
I grew up on Chippies Banana chips (a personal favorite) but St. Mary's today is another brand quite popular on the island today. On supermarket shelves islandwide, you'll also find chips made out of Cassava, Breadfruit, and Ripe Plantains.
2. Big Foot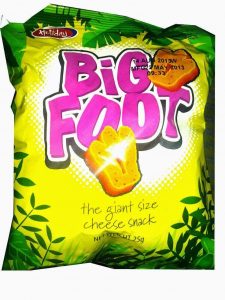 As the name suggests, this snack is shaped like a foot (if a foot only had three toes!). The giant cheese snack can be found in many Caribbean households and is loved by many visitors to the island. You can treat your pallet to the regular cheesy version or explore the equally delightful spicy Big Foot.
3. HTB Spice Bun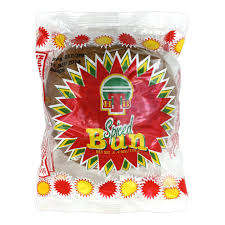 While not a traditional snack, the Jamaican Spice bun does deserve to be on this list. It is made with a combination of ingredients like dried fruit, cinnamon, and raisins. You can have it with slices of tastees cheese, which makes every bite you take of it more fulfilling than the last. I consider it to be the "hungry belly" snack – a quick fulfilling meal that can be had anytime throughout the day.
4. Cheese Trix & Crunches (Tigaz, Cheese Crunch and More)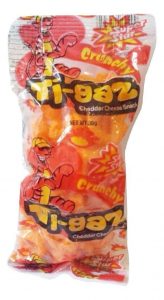 Though I previously mentioned Big Foot, there is a wide range of other cheesy snacks to choose from (many of which are authentically Jamaican). If you travel the island, you're likely to find a child somewhere enjoying a Tigaz (an addicting cheddar cheese snack). There are also other enjoyable cheesy snacks like Cheese Crunches, Cheese Balls; you'll enjoy them all.
5. Kiss Cakes
While not originally from the island, the Kiss Cake is well known by Jamaicans. The cream-filled snack cake comes in a variety of flavors like Orange, Chocolate, and Vanilla. You can enjoy this sweet treat any time of the day, but it's the perfect conclusion to a hearty meal.
6. Shirley Biscuits
What would this snack list be without some form of a cookie? Shirley biscuits have been around for some 60 years, and so it's a well-known veteran snack. Biscuits often offer a unique taste, and these biscuits are no different. Grab a pack or two and share with the family.
7. Jamaican Patties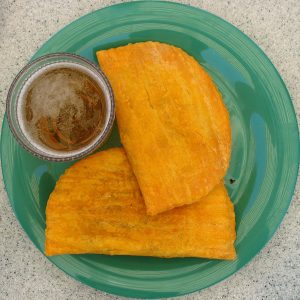 You cannot (I repeat CANNOT) come to Jamaica and not try a Jamaican patty. The flaky pastry is pretty cheap and is the perfect lunch meal for those on the go. You can buy it with the filling of your choice, and there's many to choose from (beef, chicken, soy, shrimp or calaloo – just to name a few).
8. Peppered Shrimp Bites
Visit any public beach on the island such as Hellshire in Portmore, and you're likely to find a vendor or two trying to sell you some peppered shrimp. These high-protein snacks are rich in flavor and best enjoyed with a blast of pepper.
Buying Jamaican Snacks Overseas
If you're not on the island or not planning to visit anytime soon, you may feel a little bit bummed out. Perhaps this post opened your appetite and you're craving some of the snacks mentioned on this list.
Don't worry you can still grab most of them.
I've included links to some of the snacks found on Amazon for most of the products. However there are companies that allow you to purchase these items whether by themselves or in bulk. You may want to checkout Tasty Island Crates if you're interested in this.
Feel free to reach out to me personally as well for help. I'd be happy to point you in the right direction.
[kkstarratings]