Starting your day off with some good breakfast is important especially if you have a full day of activities scheduled.
Thankfully, there's a lot of options on the menu. If you're at an all-inclusive resort, you'll find the buffet lined with both local and international cuisine. While it may be tempting to go for the food you may be used to (yeah, I'm talking about the bacon and eggs), I encourage you to give our local food a try.
So in this article, I'm going to present you with a list of food options you can consider for a hearty, delicious meal:
1. Ackee and Saltfish with Fried Dumplings
A true Jamaican classic. Ackee, though not native to Jamaica, is widely used in many dishes both for breakfast, lunch, and dinner. It's actually the national fruit of Jamaica.
You'll often find this coupled up with freshly fried dumplings or ground produce. It also goes well with Jamaican water crackers or even a few slices of bread.
2. Callaloo and Saltfish with Boiled Bananas
Though people enjoy this any day of the week, you'll often find a nice pot of this in households early on a Sunday morning. The greens are thought to be an excellent source of energy and can help to power you throughout the day. Calloo and saltfish are usually cooked up together along with tomatoes, escallion, scotch bonnet pepper, thyme and other ingredients.
You can also have this with bread. However, many people prefer to have it with boiled green bananas. Yummy!
3. Steamed Fish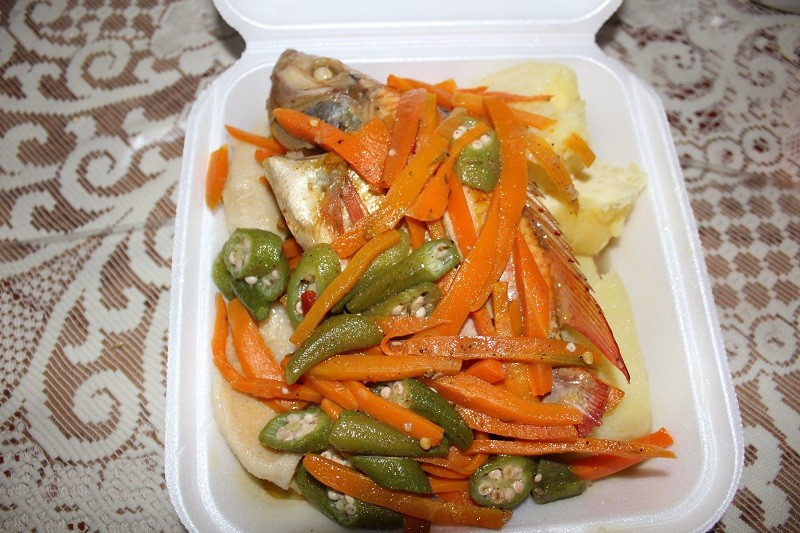 Another favorite is steamed fish and ground produce. You're most likely to find this meal being offered for lunch or dinner but it makes a delicious breakfast meal too.
4. Brown Stew Chicken with Ground Produce
Chicken for breakfast? Well of course! The chicken is usually seasoned with escallion, onions, garlic, salt, and pepper overnight.


If you want some extra flavor, add pieces of scotch bonnet pepper to the mix. Scotch bonnet is a hot pepper so keep that in mind before you make your food too spicy!
Stew chicken is served with boiled ground produce (yams, bananas, sweet potato, and dumplings). This is the power food! You're sure to get a burst of energy.
5. Cornmeal Porridge
As a child, this was one of my favorite meals to start the day off with, and it's still very popular today. The preparation is usually quick (roughly 12 minutes of cook time). You mix some cornmeal in about a cup of water, add in your water, milk and stir it all up.
Nutmeg, cinnamon, and vanilla adds flavour and makes this meal a delicious one you'll want to enjoy more and more of.
All these dishes are served best with a nice beverage. Orange juice works well but if you want something warm and delicious some nice chocolate or herbal tea would do well for you in the morning.
That's just a few awesome ideas. The best way to experience our culture is to try our food. With breakfast, you can't go wrong. Oh yeah, be sure to read about the best resorts with amazing restaurants.