Have you been to Devon House in Kingston? It's the ideal hangout spot if you're interested in learning a little bit about Jamaica's storied history, getting your hands on beautiful souvenirs to take back home, and indulging in some of the most delicious ice cream (spelt I-Scream) available on this side of Paradise.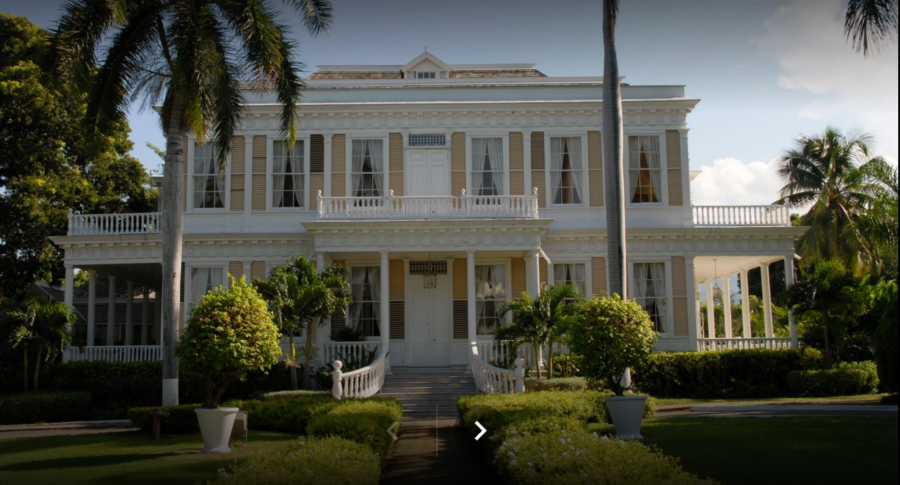 Living in Jamaica, I have had the chance of exploring Devon House numerous times, and it is one of my top places to visit in Kingston. It's my go-to location for occasions such as a romantic getaway, a quick treat with the family, to meet with friends, or just to reconnect with my roots.
In fact, I have many fond memories from trips to Devon House since I was a child and I suspect that there will be more. What can I say; the Georgian-style house, which was built in 1881, has a lot to offer.
A Little History about Devon House
This stately building is a national heritage site. It was erected by George Stiebel, Jamaica's first black millionaire. It sits on a sprawling, 11-acre estate and was one of the several mansions that comprised the so-called 'Millionaire's Circle' in that part of Kingston back in the late 19th century.
The name comes from the property previously being called Devon Penn before Stiebel made his wealth in Venezuela and returned to purchase it. Stiebel was the son of a German Jew and a black housekeeper. Having achieved the feat of becoming the first black Jamaican to reach his level of affluence, he went about creating a mansion fit for a king.
A tour of the house will give you great insight into what luxury living was all about more than 130 years ago in the Victorian era. You will especially love it if you're a history buff. The house itself has been renovated, after being under threat of being demolished in the 1960s. However, much of its old-world charm has been preserved in the brick and lattice work that pervades the design of the mansion, as well as in the detailed craftsmanship of the ornate furnishings, some artifacts, and the artwork on many of its walls.
Devon House was opened to the public as an attraction in 1968, before being named a heritage site in 1990. Over the years, thousands of tourists and Jamaicans alike have passed through its gates.
Exploring Devon House
There is a lot to see and experience on this beautiful property. To begin with, it has a lush, green lawn, which is perfect for picnics, and there are some large trees around that provide perfect shade. If you'd rather not be too close to ants, there are well-placed seats all around the property, some of which are designed just for couples, plus there are seating areas closer to the shops.
Speaking of shops, many of Devon House's outer buildings (some of which are even older than the house), now serve as retail outlets for many businesses. These include Chocolate Dreams, which I can tell you is just another fancy name for what can only be described as a chocolate lover's paradise; the Grog Shoppe, a restaurant offering delightful dishes; a bakery, which serves up some of the tastiest pastries; there is even a craft shop where you can get memorabilia to show off to your friends when you get back from your Jamaican trip.
Of course, no visit to Devon House is complete without sampling its world-famous I-Scream. As a matter of fact, the ice cream here easily deserves its own article, but let me talk about it a little to get your taste buds excited.
Ice Cream Flavours
Devon House I-Scream is ever expanding, with well over 20 flavours and counting, and one of the best ice cream brands you will ever taste. I have several favourites, including Devon Stout, Cookie and Cream (#1 on my list), Pistachio, and the classic Rum & Raisin. There are also more new flavours, including One Drop, Rocky River, and Crunchie Munchie, which have become huge hits with a lot of people.
You might be tempted to try them all but the servings are hefty, so you will probably need several trips before you can even cover half the menu.
When buying, you can order anywhere from a single cone to a quart of ice cream, and if you like, you can ask for the flavours to be mixed. One more thing (yes, I could talk about Devon House I-Scream all day), the lines for ice cream can get pretty long, especially on weekend days and between the hours of 6 – 9 pm, so pick your days and time well when visiting.
Touring Devon House
Apart from all there is to enjoy on the property, you can have a tour of the mansion organized for a small fee as well. Once inside, you will likely be bowled over by how quickly you are transported to another era, like stepping into a time machine. There are nine rooms that you can access; these include the main ball room, a games' room, an impressive master bedroom, and a drawing room.
During your tour, you will be provided with interesting tidbits of information about George Stiebel and how he came to build the house, as well as details about the furnishings in the house and 19th century way of life. Don't be surprised if you come across articles that have been around since the 1700s!
Much of the furniture includes antique pieces from as far away as England and France, but there are also items from around the Caribbean and Jamaican skilled workers have reproduced a few. Everything in the house is pristinely kept to give you the best representation of what living in such a grand edifice must have been like. A tour usually lasts anywhere from 20 – 30 minutes, but you're guaranteed to learn a lot.
What to Take
In addition to a curious mind with an appreciation for history, you should also take along spending money and a good camera, as there are numerous spots where you can take great pictures at Devon House. Oh, and bring along your appetite for all the food and delectable desserts that you will savour.
There is no entrance fee to come on the property, but the tour of the house comes at a small price. If your hotel package includes visiting Devon House, you might want to check if the cost of the tour is included.
Getting There
Devon House can be found in the heart of Kingston on Hope Road; walking distance from the Half-Way-Tree hub. If you're staying somewhere in Kingston, a taxi can easily take you there. However, if you're coming from the North Coast or even from the western end of the island, you might want to make arrangements with your hotel or a tour company.
Devon House continues to be one of the most visited and well-kept spots in Kingston. It's an experience that is bound to leave you with some insight about Jamaica's past, as well as some happy taste buds.
[kkstarratings]