Looking to become one with nature? A trip to Mayfield Falls is in order! Ideally located in Westmoreland, Jamaica, it consists of captivating greenery and beautiful flowing streams of water.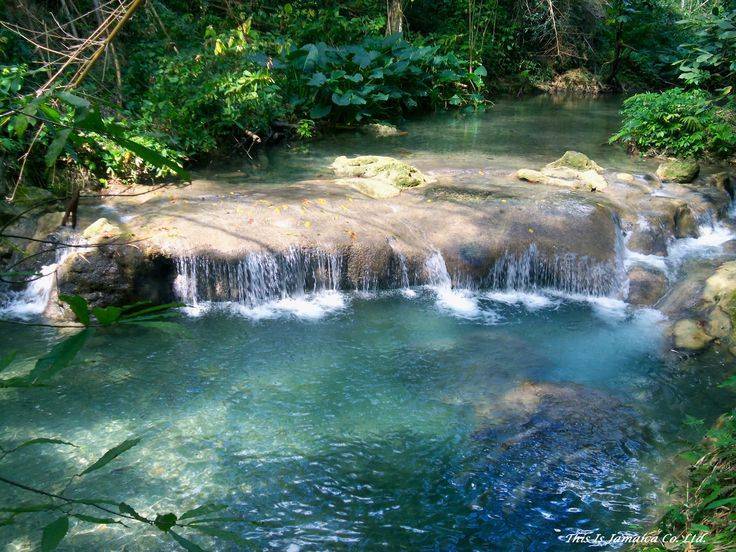 Unlike Dunn's River Falls which is the popular attraction in Ocho Rios, Mayfield has up to 44 different mineral-enriched pools that you'll fall in love with. Be sure to admire the diverse wildlife (notably different species of birds, plants and unique ferns) which make this location their home.
There's so much to take in and admire here that you'll probably refer to this attraction as a "perfect slice of paradise." As you walk the grounds of the property, you'll notice that it is well-kept and very much welcoming. Expect a sense of calm as you traverse the area with the assistance of professional tour guides.
These guides are super professional, friendly and have been there for years. They know all the little "hidden secrets" about how tourists can make the most of their visit. So I encourage you to let them take you around.
[dt_sc_titled_box type="titled-box" title="Note…" variation="green"]Bring a little extra cash to tip your guides. While this is not mandatory it's a good gesture for their hard work.[/dt_sc_titled_box]
I doubt that you'll be just admiring the flowing waterfall while others splash around. So of course, it's important that you pack your swimwear and other items you want for your enjoyment.
Here's a quick list of others things I also recommend:
Water Camera (To take pictures that will last a lifetime)
Water Shoes (To grip rocks which can be a bit slippery sometimes)
Waterproof Phone Case (For those who want to snap or post Instagram videos and make their friends jealous)
For a full list of recommended items check out the Things to Bring on Vacation page.
It's important to note that this location is perfect for both adults and kids to enjoy. It's completely relaxing especially the tallest cascading waterfall which is nicknamed "The Washing Machine." Be sure to check that one out.
Tour Details:
Duration: Approximately an hour and a half
Opening Hours: From 8 AM – 4 PM
Lockers are also available upon request.
That's pretty much it! Once you've visited be sure to pop back here and let me know it went. Snap a few photos too and connect with me, I'd be happy to share the joy with others on the social media accounts.
Happy Vacation!
[kkstarratings]