Mystic Mountain is a trendy tourist spot in Ocho Rios and for good reason.
Adventure seekers who have always fantasized about discovering the rainforest in a more personal way will love this attraction. To reach the top where the rides are, you sit in a chairlift which takes you to heights of up to 700-meters in the sky (funny enough it's called the sky explorer).
It's a bit intimidating being that far off the ground at first, but once you settle it, you'll be relaxed.
As you disembark at the top, you can explore the museum or immediately jump straight into the action.
The Bob Sled Ride
The main draw to this area is, of course, the bobsled ride (inspired by the famous movie Cool Runnings). For this ride, you're secured into your bobsled and given full control of your acceleration. You'll be able to power your way down a 1000-meter long track and be one with nature. It's a relatively fast ride but worth it.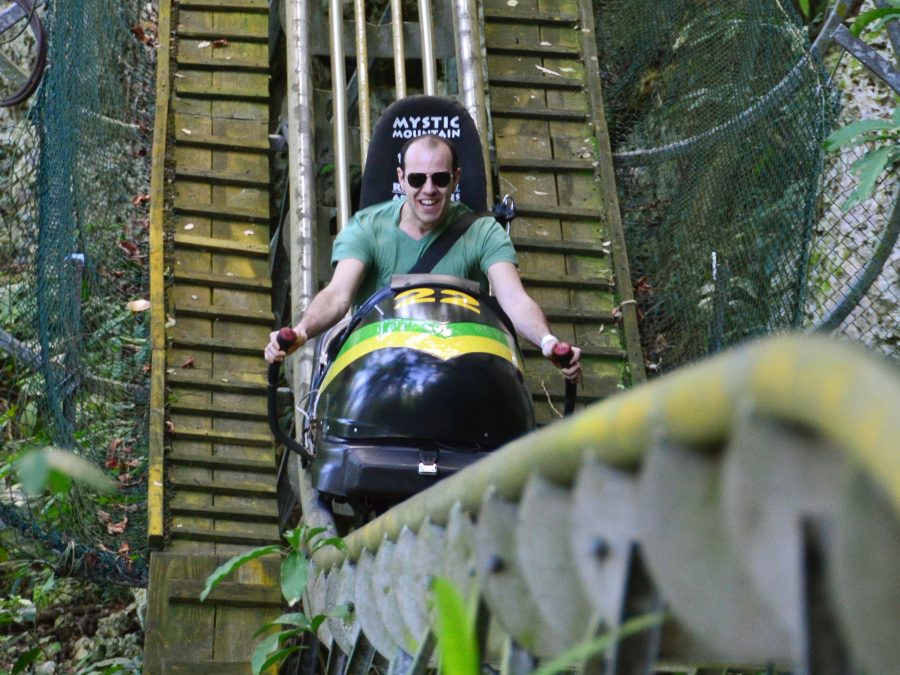 Other Activities
Bobsledding is not the only activity that Mystic Mountain has to offer though. In this 100 acres of wilderness, you can expect to enjoy other ventures such as zip-lining.
This tour will have you sailing above the uppermost part of the rainforest while screaming at the top of your lungs. Your guide takes you from one platform to the next and the views from above each is spectacular
The Sky Explorer
The tram ride (sky explorer) can be enjoyed over and over again. With the stunning views of Ocho Rios which it provides, you'll want to do it a few times. Nature fans, you'll rejoice at the sights and how peaceful and calm you feel so high in the air.
Take a Swim Before You Go
After all the play time you'll probably want to unwind and relax.
For that, there's the infinity pool and slide. Perched right on edge overlooking the Ocho Rios town, it provides you with the perfect opportunity to cool down. The 77-foot water slide is a thrill too, and you'll find that your kids (or yourself) enjoy going over and over again.
Nature Conservation
Of course, with all this activity, our more conservative visitors might be raising an eyebrow, but here's an interesting fact: Mystic Mountain is also environmentally conscious. With current sustainability plans, a conscious effort at conservation, and a fund that goes toward education involving harmonious living with the environment, this is not your average tourist trap.
As for their accolades, you'll find that Trip Advisor has awarded Mystic Mountain with their coveted Certificate of Excellence for four years in a row. It's not a surprise, given that this is truly a one of a kind experience. They have also been awarded by the Tourism Product Development Co and the Ministry of Tourism.
Tour Packages
If you are looking to get your tickets, go to their website, and you can order straight from the front page. If you would like, you can also add a tour of Dunn's River Falls or Konoko Falls.
There are bundles that you can get and save almost $100. At the time of writing this article, you can purchase a package called the Tranopy Tour, which includes zip lines, the Sky Explore, and the famous bobsled for a bundle price of $137.50 instead of the individual pricing of $229.60 (prices are subject to change).
The best part is that you can even book a shuttle to come pick you up from your hotel and take you back when you finally get your fill. No need to drive yourself anywhere!
[kkstarratings]