Jamaica is filled with many natural wonders, but the Glistening Waters in Falmouth takes awesome to a whole new level. It is something that you have to experience to really be able to grasp the magnitude of the phenomenon that abounds in this part of the world.
On my first visit, I was literally left speechless as I watched the water transform in front of my eyes into a brilliant, almost psychedelic light show. For a moment, it reminded me of a scene from a sci-fi movie, but eventually, I settled on the thought that this was probably the most magically beautiful place I have ever seen.
Okay, I don't mean to gush, but an experience at the Glistening Waters attraction has the effect of leaving you amazed.
With that said, I hope you check it out for yourself so you can see what I am talking about.
Here's why:
Some facts about Glistening Waters
Also known as the Luminous Lagoon, this place is special in that there are only three other places around the world that have a similar feature. Not to boast but Jamaica's lagoon is the brightest and biggest of them all. It's been scientifically proven and has been the subject of numerous studies throughout the years.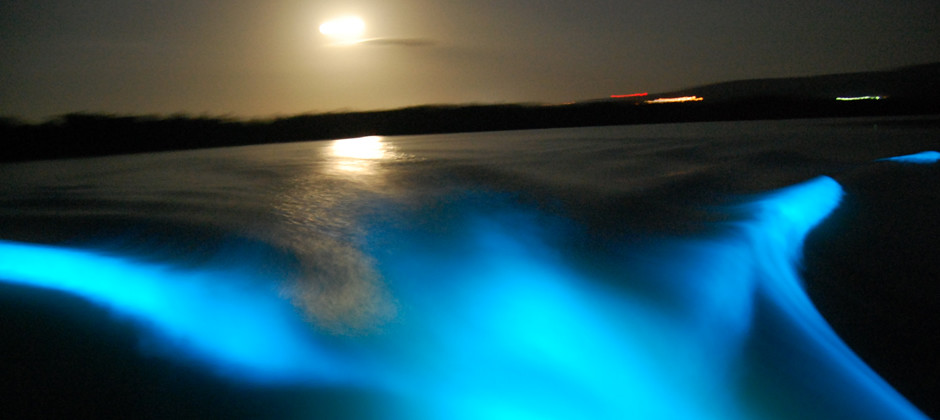 The phosphorescent glow of the water occurs where the Martha Brae River meets the Caribbean Sea. Apparently, the fusion of the saline solution from the sea with the fresh waters of the river, provide an ideal environment for the phenomenon to occur.
There is a high concentration of phosphorus in the water, as well as millions of tiny organisms that give off a light when the water is disturbed. They are called dinoflagellates but don't worry; they are entirely harmless. Plus, you can't really see them anyway; only the light they produce. If you put your hand or any part of your body in, it will soon start glowing.
What to Take on Tour of the Falmouth Attraction
Preparing for a fun experience at the Luminous Lagoon is not much different from getting ready for a day at the beach. However, I advise that you ensure you bring along bug spray or repellant because there might be mosquitoes lurking.
Also, you will need:
A towel to help keep you dry and warm
If you plan on going into the water, you will need a good pair of sneakers or another type of shoes because the water is pretty shallow and the bottom will feel rather gooey under your toes.
A small jar or clear plastic bottle (I will tell you why a little later on)
A camera
Swimwear
Money to purchase food and refreshments. Please note that the cost of the excursion varies from about 25 – 50 US dollars, depending on the tour you select.
How to Explore the Glowing Waters of the Luminous Lagoon
The best way to enjoy this little piece of paradise, within paradise, is to organize a tour with the hotel you'll be staying at or contact one of the local tour companies. There is also a Glistening Waters Hotel, which you can check out if you don't want to do much driving around.
The brilliance of the glow in the water is more vivid at nights. Your trip will most likely be organized so that you arrive around sunset, or about the time that it gets dark. Once there, you will embark on a boat ride that will take you along the lagoon for a tour that lasts approximately 30 – 45 minutes.
During your boat ride, your tour guide will tell you some facts and interesting tidbits about the area; in fact, some of them are pretty knowledgeable and can give you details and tell stories about the Glistening Waters that will make you marvel.
All this time, you will be able to see the phenomenon come to life as the boat passes through the water, leaving in its wake a trail of shimmering light. The bright glow will also allow you to see fishes swimming around in the water, as well as any plant or object that might be there.
You can also place your hand in the water and watch it light up.
Swimming in the Lagoon
If you can swim, I encourage you to bring your swimwear along because there is nothing like being in the water and experiencing your body all aglow. You will be allowed to swim and splash around for a few minutes during your tour. After getting out, your body will be glowing for a little while as well.
I should let you know that despite the Luminous Lagoon being very picture worthy, it does not always produce the best pictures – probably something to do with the glow in the water. If you do decide to take a few snaps, it is recommended that you keep your camera flash off for best results.
By the way, one thing you should do is catch some of the water and take back with you so you can experience the water's brilliant glow up close; at least for a while. This is where carrying a bottle comes in. The water in it will glow for up to several hours after you leave.
After the Tour
A trip to the Luminous Lagoon is not complete without enjoying some of the gastronomic delights on offer. Depending on the tour that you booked, you might get complimentary cocktails or drinks to go with your boat ride. However, you can also purchase a meal and other drinks at the end of your tour at the full-service restaurant and bar. Your meal choices include a variety of seafood favourites, which you can wash down with a Red Stripe Beer, a variety of natural juices, or refreshing mixed drinks.
As Jamaica's one and only naturally-occurring night time attraction, the Luminous Lagoon is truly a unique place to explore for your next visit to the island. Be prepared to be awed and to leave with a new perspective on the wonders of Mother Nature.