Jamaica is a bountiful land full of unique experiences, appealing activities, magnificent landscapes and warm, inviting people.
Along with the rich culture and amazing views, Jamaica also offers some of the best rum in the world.  The Appleton Estate Rum Tour will give you an exclusive look into an iconic part of Jamaica's prominent history, and a window into the authentic culture.
Nestled in the scenic Nassau Valley in St. Elizabeth, on the South Coast of Jamaica, you will find the renowned home of the Appleton Distillery; who have been in the rum making business since 1749.
As you enter the grounds of the Appleton Estate, you will love the beauty, color and charm of the buildings that have been well-maintained.
On Arrival and Tour Details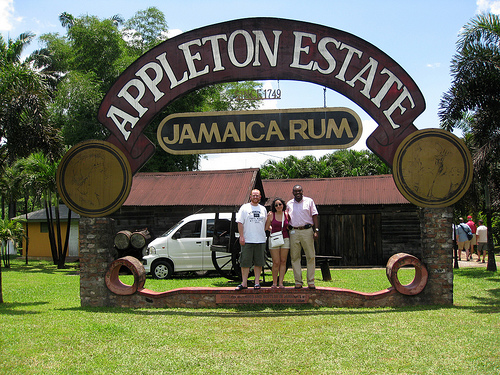 After arriving at the receptiotn area, you are greeed with complimentary rum punch. Your guide will then take you on the rum production tour, where you will experience the historic production process of these famed Jamaican rums. You will also see firsthand some of the earliest methods of the juice extraction from sugarcane, and you can then try out the flavors of freshly squeezed sugarcane juice, high wine, and molasses.
You will then visit a barrel house with its stacked oak barrels, where some of the world's most sought-after rum sits for up to 50 years, aging to excellence; and the 200 year old copper pot stills where the one-of-a-kind distillation process gives the rum its rich Appleton flavor. You will also get to meet Pax, the resident donkey.
The tour is relatively short, lasting 45 minutes to an hour, and ends in the most spectacular way – with an unlimited rum tasting featuring ten different types of Appleton rum, all varying in age, strength and taste. After enjoying the rich flavors, you will receive a nib of your favorite rum as a gift.
The gift shop is the last stop on the tour, where you can buy a few bottles of this premium rum to take home to your friends and family, a snack for the journey back to your resort, and maybe even a few souvenirs.
After the rum production tour, you will start to understand why Appleton Estate Jamaica Rum is not only the finest rum in the world, but is also the fourth-best selling rum in the world.
[kkstarratings]