With its stunning scenery, scrumptious local cuisine, and vibrant cultural scene, Jamaica is one of the ultimate wedding destinations in the world. Couples will definitely have plenty of incredible venues to choose from in this picturesque location.
From ball rooms to ocean gazebos, Jamaica will make your destination wedding ideas come to life. However, before you commit to anything, be sure that your top wedding reception choice meets the criteria listed below.
1. Check the weather and the local wedding laws
Remember that the best months to get married in Jamaica are from late October to mid-December. Avoid the hurricane season and the summer months because this is when tourists congregate on the beach. Although it is ideal to skip the rainy season as well, showers on the island typically only last for half-hour before clearing up.
Also, make sure that you have all the documents you need before you fly to the island. This includes:
An application submitted to the Ministry of Justice a few weeks before you arrive
Proof of citizenship
Certified copy of your birth certificate that bears your father's name
Proof of divorce or a death certificate, if you have been married before
2. Make sure that the capacity is just right
Figure out whether you want a small, intimate wedding reception or a large one, since this will considerably narrow down your choices. The size of your reception venue is the most important consideration because it will affect not just your budget, but also the overall experience of your guests.
Choose a venue that is not too small that the space will feel too congested for your guests, but also not too big that certain areas of the venue will seem deserted. Always view the location when it is set up for a wedding, since it can be hard to imagine how an empty venue will look like when it is filled with furniture and décor.
3. Choose an accessible location
Choose a wedding reception venue that is easily accessible for your guests. Because you are celebrating a destination wedding, make sure that the venue is located near the hotels where majority of your guests are staying at.
The venue should also have ample parking space. At the very least, it should be near a good parking lot or located in a street where it is safe and legal for your guests to park.
4. The venue should fit your wedding theme
If you have a specific theme for your wedding and reception, make sure that the existing or permanent décor of the venue won't clash with your aesthetic. Although the venue does not have to be in the same colors as your wedding theme, the overall look of the place should fit with the mood you are going for.
For example, if you are planning a glamorous and old-Hollywood-style wedding, a rustic country barn probably won't work. If you have chosen a formal wedding dress with a long train, dragging it through the mud in an outdoor venue is also not advisable.
5. Check the dining, drinking, and dancing areas
Many wedding reception venues in Jamaica offer on-site catering, featuring some of the best traditional and authentic dishes in the island. If you want your guests to have the full island experience, you might want to check out those.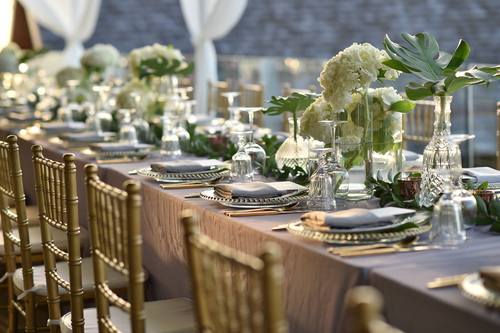 There should also be pre-set places within the venue where your guests can eat, drink, dance, and mingle. If the place is too small to be separated into these sections, it will probably be too cramped for your reception.
6. Think about the lighting
Remember that lighting can make or break the mood of your wedding reception. This is especially true if you are holding the event during the day. Make sure that the venue has plenty of windows so that you can enjoy the natural light.
If your reception will be held during the evening, ensure that venue is not too dim. They should also offer different lighting options for certain parts of the events, such as the big entrance, dinner, and dancing. If it is an outdoor venue, ask whether you will be allowed to set up candles if it gets too dark.
7. Consider the acoustics and other technical aspects
The acoustics of the place is crucial, particularly if you are planning to hire a live band to cover the event. Make sure that the venue is not too echoey. Keep in mind that tiled and wooden floors tend to amplify sounds, while thick carpets will muffle them.
Another thing to consider is the number of outlets available in the venue. You want to be certain that the entertainment crew you will hire has enough electrical outlets to keep the party going.
Conclusion
Wedding reception venues typically represent the biggest wedding expense for couples. This is why you need be certain that the location you choose will help you create amazing memories of your special day.